I'm writing a series on alternative engagement photo ideas.
Engagement sessions are something that many brides-to-be and grooms-to-be often struggle with. It's a love-hate relationships to some. They love to have some photos done but they feel awkward by the whole idea.
Many of my couples share the same concern that they're not the most enthusiastic when it comes to having their photos taken. Many feel that engagement sessions are not necessary and even embarrassing. It's perfectly understandable that not everyone is comfortable of having pictures done in the public, not to mention being intimate when others are watching.
Home engagement sessions are intimate, romantic and relaxing. Engagement photos done at home are perfect for couples who want their intimate moments to be documented but might be too shy to do it in public. Although you still have to bare with me being there. making those photographs. I promise I will be as quite and unobtrusive as possible.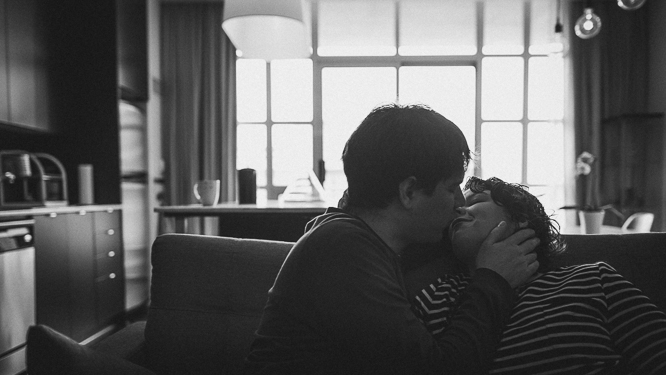 Another benefit of an engagement session at home is that not only it can document the space you two have been living in together, the pictures also can be a piece of evidence of some of the details and routines in your everyday life. As simple as making a pot of Sunday morning coffee together to perhaps integrating your beloved dogs or cats in some of the images. It's surprisingly sweet when you look back to those moments. With a documentary approach, it's also more relaxing and natural for you as a couple to be photographed. Not every engagement picture has to be kissing and hugging. Capturing a subtle interaction between the two of you and an eye contact can be romantic and intimate as well.
Click to see more alternative engagement photo ideas: